I Want CHOO! | The Shoes I CAN'T Do Without! | Fashion Blogger
Okay, dolls. Take away my dresses, fine. Make me wear the same white t-shirt everyday? I could handle that. Dare I say, rid my closet of every single tulle skirt, I think I could survive. (MAYBE!) But taking away my shoes is like taking away a cheetah's spots! SHOES are ESSENTIAL to The Caroline Doll! Today, I am sharing my top must-have shoes that I could never do without and that I think every fashion-loving doll should have!
Costa, my husband, recently surprised me with these Jimmy Choo Bailey Logo-Web Sandal. He has been caught up in #allthethings #worldcup, and as these have a sporty look to them, I think soccer had something to do with it! They are SO comfortable!
At first blush, I really only thought I would wear these shoes once or twice. Clearly, they are quite the statement shoe and intricate with detail! But I find myself looking for times to wear these with success! You have probably seen them all over my Instagram page, I've been wearing them so much! Butterfly heels? What's NOT to love?!
Every luxury-designer-fashion-loving doll should have a pair of Christian Louboutin's. My only pet-peeve? Scuffing the iconic red soles! Regardless, this is a classic and timeless shoe that comes in a variety of colors. Obviously, I HAD to go with PINK!
Clearly, Sophia Webster is quickly becoming one of my FAVORITE designers. I think what I love most about a statement shoe is that they do ALL of the talking for any outfit, literally. They are great conversation starters! Sophia Webster does such a good job of ensuring comfort in her shoes. Practical and pretty? I'll take two!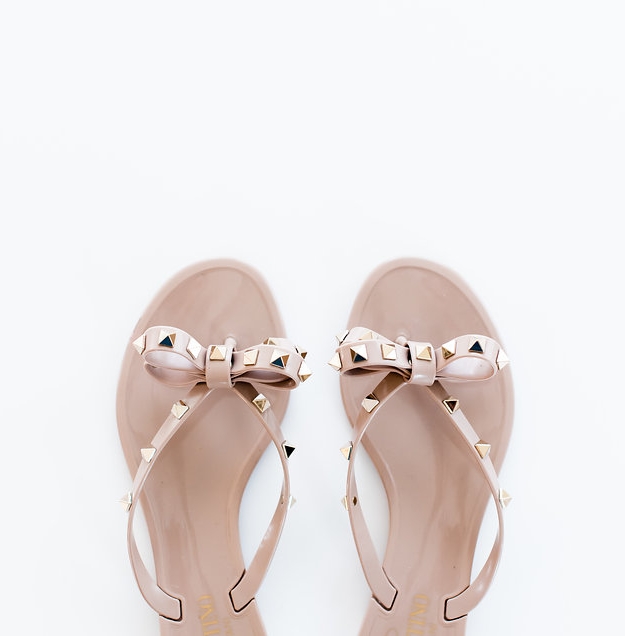 I have had these in black and now I have them in PINK! These are my go-to in the summer. The best part? When I am wearing my Valentino heels (or any heels), these flip flops fit perfectly into my bag to give my feet a break! Always, always be prepared, dolls!
High-fashion meets high-top! I have been eyeing these sneakers for a while, now and finally ordered them! They run pretty true to size but the canvas stretches just a little. Pretty and pink meet pretty and punk!
Okay, okay. Third time is the charm. I always thought I would never cheat on Jimmy, Louis, or Christian...but Sophia Webster IS my favorite designer du jour. These are called the Glitter Princess Sneaker. Do I wear them to the gym? Yes. Do I get double-looks? Absolutely. Do I care?! Not when my shoes are prettier than everyone else's!
My fancy sandal that goes with every look. I wear it with anything from a t-shirt and jeans to a maxi dress! Feminine and chic, I will always think of any shoe by Stuart Weitzman as iconic and classic!
Okay, okay. Giving up my tulle skirts may be a stretch, dolls. After all, #tututuesday was one of my first #hashtags! But shoes are my first love!